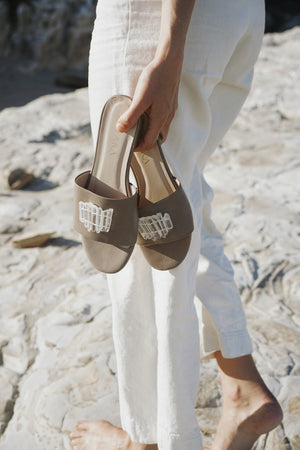 SAHARA Clear Quartz Sandal
Sale price Price $335.00 Regular price
Wear to help: Magnify your life and manifest your ideal vision.
The ASTARA Sahara Clear Quartz Sandal works with Clear Quartz as a Master Healer crystal and frequency holder.  
Clear Quartz is thought to amplify the energies of all other crystals and enhances intentions, helping to restore balance to the body. It is a conduit for high frequency harmonizing energy.
This is the perfect pair for those with a specific intention they wish to manifest and bring forth into the world. Entrepreneurs, creatives, future-mamas—this is your power shoe.
The intentional design and shape of the seven-quartz crystal directs energy into the largest center crystal, helping to enhance healing and amplify intention.
Artisan handcrafted in Downtown Los Angeles, CA
Natural, Vegetable Tanned Italian Leather
Genuine Clear Quartz Crystal Gemstones
Reiki Charged Crystals
Proprietary Schumann Resonance Grounding Technology