Grounding footwear (you want to wear.)
We believe this time upon the planet is asking us to come back into deeper resonance and connection with the earth- in all ways. When you wear ASTARA, not only are you connecting to the healing frequency of the Schumann Resonance at 7.83hz, with our grounding technology piece in each shoe, you are part of a family of individuals all over the world choosing to step intentionally into the world we want to see.
It's all right under your feet.
Mother Earth is our greatest teacher, muse, healer, mother and ally. Through the remembrance of our deep interconnection with nature as nature itself, we come back into resonance with all of organic life.
Research shows connection to the Schumann Resonance at 7.83hz helps the human body to come into a natural coherence, reducing inflammation, regulating circadian rhythms, lowering blood pressure and helping with sleep disorders. We are not meant to be disconnected from the earth.
Each ASTARA shoe has a proprietary piece embedded that resonates at 7.83hz, so no matter where your journey leads, you stay connected to that harmonic earth tone.
shop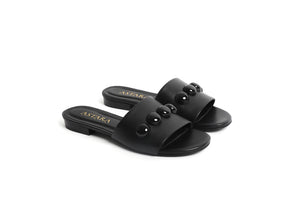 Sahara Black Onyx Sandal
Sale price Price $290.00 Regular price
meet our founder |
Mariah De La Mer healed herself of multiple autoimmune illnesses finding her way of healing through the earth. She then founded ASTARA on one principle, to help others restore natural vitality through connection with the earth.
learn more
"If you want to find the secrets of the Universe, think in terms of energy, frequency, and vibration. Our entire biological system, the brain, and the earth itself, work on the same frequencies."
Connection with the Earth
ASTARA was created with the vision that shoes should be both functional and purposeful. An intentional piece that connects you to the balancing frequency of the Earth, which is often blocked from urban living and the conventional rubber sole shoes.
Your journey is powerful—and we believe your shoes should be, too.
Artisan handcrafted in Downtown Los Angeles, CA
Vegetable Tanned Italian Leather
100% Organic Packing Materials
Earth-friendly Materials
This thoughtfully designed collection is crafted from earth-friendly materials and genuine gemstones. When you slip on a pair of our shoes, you instantly connect to the planet, to the collective—and to yourself.
Made for a Grounded Journey
The grounding sole of each shoe is designed to tune in and amplify the Earth's resonant frequency (a vibration of 7.83HZ, to be exact). When you slip on a pair of ASTARA shoes, every step you take helps ground you in a natural state of balance, syncing you to the Earth's electromagnetic field.
Shop Now
"Beautiful designs, incredibly comfortable, and timely concept. "