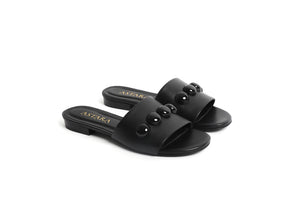 Sahara Black Onyx Sandal
Sale price Price $290.00 Regular price
Wear to help: Neutralize negativity, ground your energy, stand strong in your truth.

The ASTARA SAHARA Black Onyx Sandal works with the energy of Black Onyx as a power crystal of protection and grounding. 
Black Onyx helps aid in the defense against electromagnetic frequencies (EMFs) and helps the body maintain strength and stamina—think of it as an energetic shield you slip on every day.

It's the perfect pair for protection against unwelcomed energies, and great for busy city dwellers who want to stay grounded as they navigate packed city streets and subway platforms. 

The stones are intentionally designed horizontally across the footbed, energetically anchoring the body into the Earth. 
Artisan handcrafted in Downtown Los Angeles, CA
Natural, Vegetable Tanned Italian Leather
Ethically Sourced Genuine Black Onyx Gemstones 
Reiki Charged Crystals
Proprietary Schumann Resonance Grounding Technology