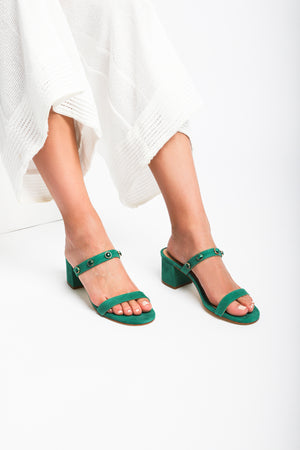 SELENE Malachite Mule
Sale price Price $260.00 Regular price
Wear to support: Attune to the natural energy of abundance and support transformation in times of change. 

The ASTARA Selene Mid-Heel Mule works with a proprietary grounding technology and Malachite as a crystal of transformation and new beginnings.
 
Malachite is highly supportive of these times as it helps one release old energetic traumas of the heart and assists with change and transition. This stone is thought to attune to the frequency of the heart and the natural flow of abundance, keeping one open to new possibilities and opportunities. 
If there has ever been a stone that aligned perfectly to support the transformative times we are currently in, it is malachite. 

Artisan handcrafted in Spain 
Italian Leather Suede
Ethically Sourced Genuine Malachite Gemstones
Proprietary Schumann Resonance Grounding Technology