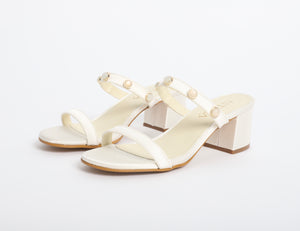 SELENE Moonstone Satin Sandal
Sale price Price $330.00 Regular price
Celebrate the beauty of new beginnings.
Say hello to SELENE, a timeless, minimal two-strap sandal with just enough height, and the perfect block heel for all surfaces. The ASTARA Selene Pearl Satin Sandal is adorned with Moonstone gemstones in celebration of the feminine essence and new cycles of life. 
In Ivory Pearl Satin, the SELENE in Moonstone highlights the grace and elegance of the feminine. Whether saying "I Do," upon a sandy beach in the Mediterranean, or celebrating in your backyard or a City Hall appointment, our 2" block sandal with ASTARA Grounding Technology will help you to bring full presence and awareness as you celebrate expansive moments, honoring new beginnings, new cycles and the beauty within them all.  
Artisan handcrafted in Spain
Ivory Satin with Leather insoles 

Genuine Moonstone Crystal Gemstones
Reiki Charged Crystals
Proprietary Schumann Resonance Grounding Technology