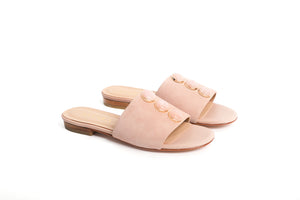 SAHARA Rose Quartz Sandal
Sale price Price $290.00 Regular price
Wear to help: Attract and radiate love and harmony. 
The ASTARA SAHARA in Rose Quartz attunes to the vibration of Rose Quartz as a frequency of love, compassion and beauty. 
Rose Quartz is a crystal for all things love. It attunes to the oneness of the Universe and helps attract love in all forms. This stone is thought to harmonize the frequencies within the body, helping one feel safe, loved, and seen.
It's the perfect pair for first dates, and for those who wish to manifest and radiate love from inside out.

The Rose Quartz crystal is designed vertically toward the body, directing the loving energy upward toward the heart and circulating back down to the Earth.
Artisan handcrafted in Downtown Los Angeles, CA
Natural, Vegetable Tanned Italian Leather
Ethically Sourced, Genuine Rose Quartz Gemstones
Reiki Charged Crystals
Proprietary Schumann Resonance Grounding Technology