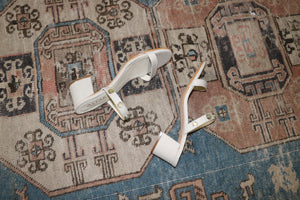 SELENE Prehnite Vegan Linen Mule
Sale price Price $280.00 Regular price
Wear to support: Attune to the natural healing energy of the earth and remember the interconnectedness of all things. 

The ASTARA SELENE Vegan Mid-Heel Mule in Italian Dove Linen is our first vegan shoe and dare we say first vegan grounding heel ever? Yes, we do, because it is true. 
 
Prehnite is a stone that heals the healer within us all. It is a gemstone that radiates and attunes to the heart chakra and reminds us of the sacred work in self-care. Prehnite helps to support in times of great change and assist in placing one's needs above all else.
For the love we give ourselves, is the love we are able to share with the world. 
Artisan handcrafted in Spain 
Italian Natural Linen
Vegan leather outsoles and liner
Ethically Sourced Genuine Prehnite Gemstones
Proprietary Schumann Resonance Grounding Technology