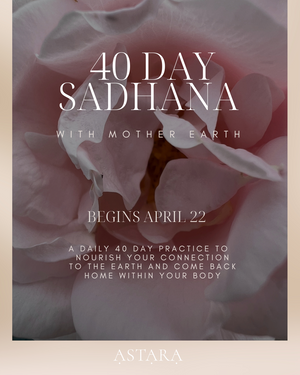 40 DAY SADHANA | MOTHER EARTH
Sale price Price $44.00 Regular price
Join us on a 40 Day Practice of Connection and Devotion with Nature. 
A sadhana is a personal spiritual practice of devotion, while 40 days signifies structured time of renewal. 
40 Day Sadhana with Mother Earth is a personal daily practice of connection and devotion to nature, bringing you deeper in tune with the earth and your body. It is an invitation to attune to the natural radiance, abundance, creative fertility and love within the earth and your own body. This is your own journey of discovery, devotion and renewal. 
While this personal 40 Day practice can be done at any time, we begin this year on April 22, Earth Day and in between eclipses as we set off in a time of new beginnings and renewal. It is a very powerful time to set new intentions and take the time to truly listen to the earth and the messages within our own bodies. 
40 DAY SADHANA with MOTHER EARTH  /
You will receive:
PDF download with journal prompts, daily practice guides for your personal selection, earth prayer and intention setting alongside a guided earth meditation download. 
IT IS AN INVITATION TO ATTUNE TO THE NATURAL RADIANCE, ABUNDANCE, CREATIVE FERTILITY AND LOVE WITHIN THE EARTH AND WITHIN YOUR BODY.
THIS 40 DAY SADHANA WITH MOTHER EARTH IS A TIME TO CONNECT DEEPER WITH NATURE, WHEREVER YOU ARE.